Serendipity played a big part in the collaboration of Bernabe and Mu Du.  Anna met Lourdes founder of her eponymous label at a trade show at Olympia on one of her many trips to London.
Lou's love of her Andalucian coastal heritage and Anna's half Greek background tapped into their love of the light on the sea, and the simplicity of coastal fishing life.
Mu Du accessorised the SS21 Navigantes collection showcased at Andalucian Fashion Week set in the beautiful Old Convent of Santa Maria de los Reyes in Seville.  The sophisticated womenswear and menswear collection was inspired by the fisherman of Huelva and crafted in beautiful cotton and linens, in a soft colour palette, of mustard, beige and navy blue.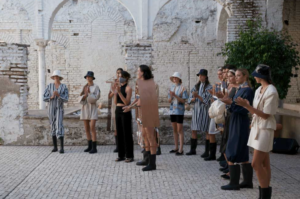 Mu Du accessorised the collection with hats, headbands, and scarves. Anna painted the print of the sea and boats that feature in the collection and on the silk scarves.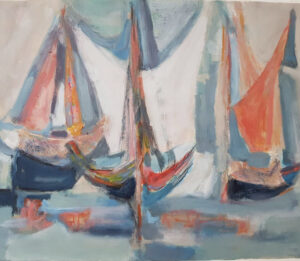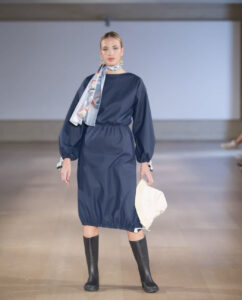 Headbands were handwoven in the Mu Du London studio to echo the handcrafted fisherman details of wood and wicker. Though Rustic and free spirited the look remains sophisticated.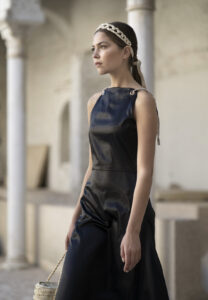 Fisherman hats were replaced with Mu Du waterproof bucket hats.  First invented to keep the water off sea swept fishermen they translate as chic accessories.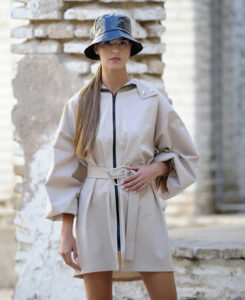 Creative Director: @victoriadiazpaez
Stylists:@rocio_remixes_style, @alejandrolv_, @onlydanielduran, @anabelen_pcabrera @aida_calero_estilista, @mariahumans, @maki17s, @marcos_holland .
Photographer: @alicianieto70and7photography
Models: @axelgp96 @merpew @anume18 @lucia_aviles_ @evaapalmaa
Hair & Makeup: @victordelvalle_
Location: Antiguo Convento de Santa María de los Reyes, Sevilla
@mariaavilamoda @jossblake @antoniorivasofficial @bernabe.co