SPRING/ SUMMER 2021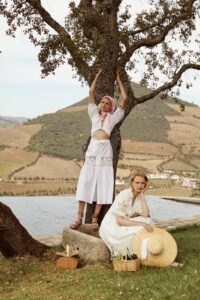 Delighted to collaborate again with Ana Teixeira de Sousa of Sophia Kah.
For lovers of natural fabrics and exquisite detailing (and there are many including, Keira Knightley, Sarah Jessica Parker and Kerry Washington, to name a few!) Sophia Kah and Mu Du London are the brands for summer chic.
The brief, straw, raffia, lace and linen. A style very much inspired by Ana's home country; specifically the beautiful Douro Valley region, a UNESCO World heritage site.  Famous for its beautiful port and wine producing vineyards.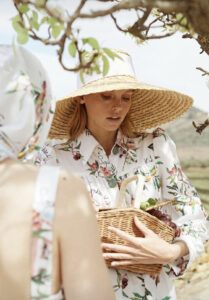 Elegant embellishments were the order of the day.. on maxi skirts, strapless dresses, headscarves and bell shaped hats all trimmed with stunning lace and prints made from Portuguese vintage posters.
The outcome a bohemian collection that can be styled day-to-night.  Perfect for those sunny days, chic garden weddings or barefoot evenings.